Customer Reviews
08/05/2019
On time. Every Time.
I have always been appreciative of the level of support and service we have received from CBS. The team is very responsive, our orders are correct, and shipped immediately. We would not be where we are today without the support and assistance from the team at CBS.
Ron L.

United States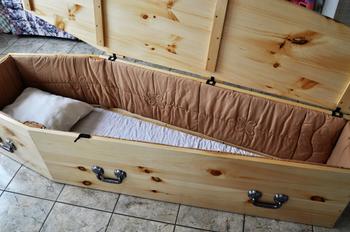 03/18/2021
Simple and Sturdy
We only used one of these for a toe pincher casket and it held the lid firmly. We followed the directions on the website, keeping the lower bracket at 3/4" from the side edge (6" from hinge pivot point). We used one flush mount and one side mount brackets for the job. Works great!
KATHY S.

United States
03/05/2021
Desperate Funeral Director
We were in need of a knee brace style hinge for a full couch bronze casket that had sat in our selection room for over 10 years that a family finally selected because of the fact that it was black and gold and he was such a big New Orleans Saints fan. We were so excited to see it leave, but the only problem was that at some point someone had closed it and bent the braces so that they no longer worked. We reached out to our casket supplier and they had some, but could not guarantee that they would be to us in time for the visitation and service a couple of days later. So i started looking online, and Casket Builder Supply had the braces that i needed, were able to ship them out that day and i had them in my hands the next day. What a blessing for us and the family to be able to provide them the service and the merchandise that they so desired for this New Orleans Saints Fan!
Robert C.

United States
10/13/2020
Casket lid supports
Quick response and quality products
Harold P.

United States
08/08/2020
Just buy it
Seems well made but guys can you do me a favor? I realize you were trying to be nice but can you not put chocolate candy in my order mid summer? Had to clean melted tootsie roll off my hinges...
Jonathan B.

United States
08/19/2020
Casket Builder Supply
Oh no! The tootsie rolls melted. Noted! Thank you.