Customer Reviews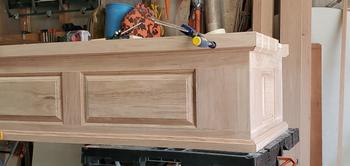 05/15/2020
Building my casket
the hardware kit was well priced and received with in two days
Kenneth C.
United States
07/04/2019
Good Products
Order was placed and shipment was on time. Products were as stated on the web page.
Albert O.
United States
05/21/2020
i found the casket supply
i found the casket supply kit very help full the special hinges really worked because you can make lid flush or let hangover witch i left 3/4 in hang over all around just my preffernce
john l.
United States
02/21/2020
Great set, everything you need!
This worked great and had everything we needed to complete our project. Thanks!
Danny G.
United States
11/09/2019
Casket hardware kit
Ordering was easy and was delivered promptly. I haven't installed the hardware yet, but I'm concerned that it is a little lightweight for such heavy lids. We'll see!
jack m.
United States
11/18/2019
Casket Builder Supply
Hi Jack, on hardwood heavy lids, we recommend using 3 hinges per each half lid. For pine, rest assured the hinges are solid. Same design has been in use for more than 100 years.