Customer Reviews
03/18/2021
Beautiful!
The first toe pincher lumber parts fit together well, but the second one didn't. Although the newer models may have a better design, the lid and bottom on the second casket seemed too small for the hexagon, although all the vertical seams were fairly tight. The photo is of the best casket, which we did first.
KATHY S.

United States
01/18/2023
My Kit Purchase
I have been pleased with both the quality of the material and the services provided. The kit arrived promptly and was complete as promised.
Jeffery T.

United States
09/21/2023
What a Wonderful Experience
I pretty much finished my toe-pincher today. I just have to get a pillow (the wife is making one). As per the build, I felt it was a very rewarding experience. It helped me personally to have a more positive outlook towards the end of life and as a bonus, helped strengthen my faith. It went together pretty much without a hitch. Any mistakes were mine, that were fortunately minor. I burned the wood a bit here and there, to give it a different look. I followed that with a good sanding and 3 coats of water based polyurethane. I really like the way it turned out. The folks here at Casket Supply are stellar, they are total professionals and truly care about their customers. I can't say enough about them. Thanks Stacy for all your help. You were a breath of fresh air. If you are at all handy with your hands, I highly recommend the experience. 5 Stars!
Jack P.

United States
11/29/2023
Casket Builder Supply
Yaaaay, Stacey! Thank you for sharing, Jack.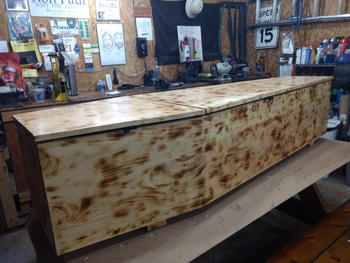 09/11/2023
A Very Rewarding Experience
I guess you could say, building your own coffin is "old school". I would add however, something soothing psychology, even rewarding happens. I highly recommend it. 5 Stars.
Jack P.

United States
11/29/2023
Casket Builder Supply
Thank you for sharing a photo, Jack. Very nice. *like*