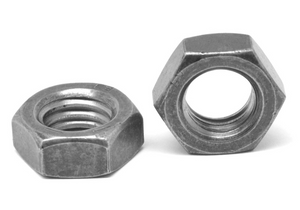 Machine Screw Nut, #10-24 x 3/8 in. x 1/8 in., Coarse Thread, Hex
Casket Builder Supply
Regular price $25.95 Sale
This nut is used in conjunction with a machine screw and washer to secure swing bar arms to the casket wall.
Nuts are almost always used in conjunction with a mating bolt to fasten multiple parts together, kept together by a combination of their threads' friction, a slight stretching of the bolt, and compression of the parts to be held together.
Available in the following quantities:
1 LB (Approximately 300 pieces)
5 LB (Approximately 1500 pieces)
Specifications:
Fastener Type:  Hex Machine Screw Nut
Size Description:  #10-24 x 3/8 in. x 1/8 in.
Diameter/Nominal Size:  #10
Thickness:  0.117-0.130 in.
Wrench Size/Across Flats:  0.362-0.375 in.
Width Across Corners:  0.413-0.433 in.
Thread Pitch:  24
Thread Pitch Type:  Coarse
Thread Direction:  Right
Grade:  2
Material:  Low Carbon Steel
Finish:  Plain Finish/No Plating
Drive Type:  External Hex
Used With:  Bolts/Screws up to Grade 5
Building a casket?
Want to learn more about building caskets? Have a look at our friendly casket builder's guide, So You Wanna Build a Casket?