Customer Reviews
10/15/2020
Not a coffin
I am restoring a hundred year old cabinet that was put together with square nails. The ones I received were just the right size for where I need them. These are working out great.
Allyn B.

United States
02/09/2021
Coffin nails
I ordered this after looking at many suppliers - these were the best price! I can't believe how fast they shipped. They were packaged very well. I will definitely order from this company again!
YVONNE W.

United States
11/12/2023
Coffin Nails
Shipping was pretty quick. They were reasonably priced, but there were several in the bag that were bent in the middle bad enough that they were unusable. Overall, I'm satisfied.
Jesi F.

United States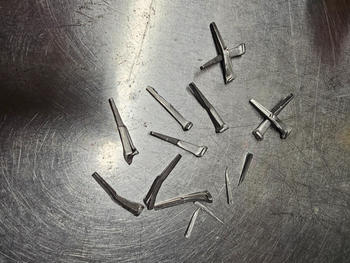 06/15/2023
Coffin nails
Order coffin nails here often. Last batch however did not meet satisfaction, lot of the nails were bent, out of shape. Still leaving a 5 star hoping this was a off day.
Bruce S.

United States
11/29/2023
Casket Builder Supply
This is odd. I am looking into this. I expect a few mis-cut nails here and there, but not as many as you found assuming this was in 1 lb. Let us know if you need a few more for your project.
02/16/2023
Perfect for what I needed them for
I have a metaphysical store and these have been highly requested for spell work. The customers loved them!
frankie j.

United States