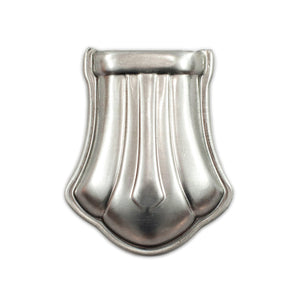 Casket Handles, Swing Bar, End Cap, Tip, 5/8 X 1-1/4 Triple Grove Oval
GMMCO
This decorative end cap for swing bar casket handles is the real vintage. This tip fits a 5/8 by 1-1/4 Triple Groove Oval bar style handle.
Specifications
Tip Height: 3/4 Inch
Tip Length: 2 1/2 Inch
Tip Width: 2 1/4 Inch
Handle Size: 5/8 x 1-1/4 Inch oval
Steel: 0.050 Inches (1/20 inch) - 18 ga.
Steel Source: Made in USA,

 

Always
Finish: Unfinished
Part No: G-264
Finishing
These parts are ready for your unique and creative finishing coat. While we offer swing arm parts in a small variety of polished and antique finishes, there are countless methods to finish these steel parts to achieve the unique style you want. Learn more by reading our article on how to finish raw steel.
History
We've partnered with General Machinery & Mfg. Co. of Chicago to revive these unique vintage parts--some of which have not been produced since the 1950s. Learn more about these vintage parts by reading about our suppliers.
The first thing you will notice when you receive these parts is that the steel is higher quality and heavier gage than many similar brackets made by others.
Building a casket?
Want to learn more about building caskets? Have a look at our friendly casket builder's guide, So You Wanna Build a Casket?