---
These industry standard casket latches are quality stamped steel.
Latches come in two styles; Stud Style (A stud is mounted on the edge of the casket lid and Tab Style (a plate with a tab is mounted on the edge of the casket lid.
Additionally, both styles are offered in either left or right opening configurations. For left hand style, the lever clasp points to the left and pivots on the right. For the right hand style, the clasp points to the right and pivots on the left. Many casket builders use the left hand style exclusively on both sides of all caskets.

Available in both left hand and right hand kits (sold by each) that include screws. The four pieces for the assembly are packaged separately.
Latches are also available in bulk packs of 100. Bulk packs DO NOT include #6 screws.
Casket Latch (Stud Style) Universal Kit Contents
Bottom Mounting Plate (1)
Lever (1)
Top Mounting Plate (1)
Stud (1)
Casket Latch (Tab Style) Universal Kit Contents
Bottom Mounting Plate (1)
Lever (1)
Top Mounting Plate (1)
Tab Plate (1)
Specifications
Width: 2 inches
Back: 3/4 inch (measured from front wall of casket to back of mortise)
Depth: 3/16 inch
Radius: 1/4 inch (use 1/2 inch router bit)
Material: Stamped steel
Color: Black
Origin: Made in the USA
Mortise Instructions (Stud Style)
Use a 1/2 inch router bit. Setup your template or stops for a 2 inch width. To avoid tear-out, take off very very little (about 1/16) with your first pass working from left to right. Take only about 1/8 to 3/16 more material per pass and complete the mortise in 4-6 passes. If you are too aggressive--especially on the first pass--it may result in tear-out on the right edge of the mortise.
Customer Reviews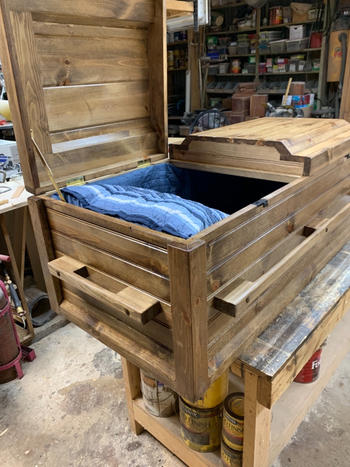 09/22/2020
Casket Latches
Since I found your latches, they are the only ones for me! Appreciate the quality and quick delivery! JB
Jonathan B.

United States
02/13/2021
Good packaging, shipping, and service!
I've made small orders from this company before now but this time I had a big order. There was no change in service, that is ,everything was packaged well, shipped on time and no back orders. Very friendly people to work with also. They are very highly recommended by me!
Mark V.

United States
05/11/2020
Casket latch
Very easy to install and work great. Customer support is A1!
Michael L.

United States
10/06/2022
Wonderful Company
What a sweet heart, pleasent and fast service.
10/01/2022
Easy installation
Great latch. Easy to install. Great fit.
John W.

United States