---
Colors & Protects in a Single Coat
RMC Oil Plus 2C is a next-generation product that colors and protects your wood in 1 single layer. The combination of the oil (A) and the accelerator (B) ensures a quick dry, quick cure and superior protection.
This product first appeared in 2005 after years of R&D to create a fast drying, 0% VOC, environmentally safe, natural oil finish that can stand up to the demands of time. This product is designed to withstand the daily grind of a commercial floor!
No special skills required. No special tools required. No spraying. No harmful vapors. Just beautiful results!
Rubio Monocoat employs a unique technology, based on molecular binding, that makes customers happy all over the world every day!
BENEFITS
Get quick results with a superior, professional, quality finish on your wood caskets
Apply by hand with flooring scuff pads, wipe off with clean rags
We stock 7 standard colors common to casket building. (We can get you other colors by request)
Enhances the natural look and feel of the wood
0% VOC, does not contain any water or solvents
Easy to maintain
No overlaps or starting marks
Minimal use: 300 - 500 ft² per liter
Can be applied to all wood types
Very wear-resistant
Water- and heat-resistant, ideal for kitchens and bathrooms
Very fast curing: 80% in 2 days
A short 'dry' maintenance period: after 5 days, the surface can be cleaned with water and soap
Packaging: 350 ml in stock (ask us about 1.3 L and 3.5 L duo cans)
350 ml will cover 1-2 complete caskets
Customer Reviews
01/26/2021
Fast and easy
I live using Rubio monocoat to finish. Easy to use and great products. The price and speed of shipping from Casket Builder Supply is top notch as well. Maybe a smaller box would have saved on shipping and packing waste. Thanks again!
zack f.

United States
02/18/2021
Great finish
Rubio is the safest and easiest finish we have ever used at our boutique casket company. A little goes a long way and produces gorgeous results.
Julie

United States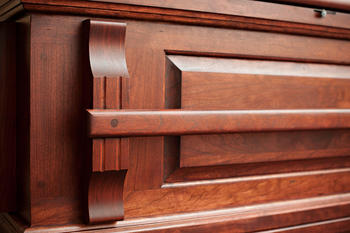 02/18/2021
Excellent product
This oil is easy to use and finishes beautifully.
Julie Z.

United States
03/30/2020
Rubio Monocoat pure
I did a test box last week and was very pleased with the results. Just like it says, it goes a long ways. I built a casket out of tamarack and used the Rubio on it today. No streaking or lap marks. the plywood bottom was much more absorbent than the actual solid wood. Probably twice as much. it has a soft silky feel when dried and burnished with the white scotchbrite. I will use this again.
Dennis D.

United States