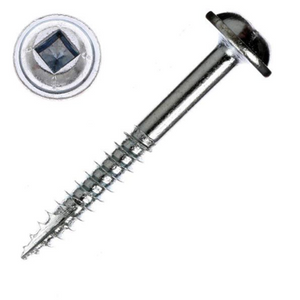 Pocket Hole Screws, #7 x 1-1/4 in.
Casket Builder Supply
The perfect choice for attaching wood lugs to the casket wall.
Available in Fine or Coarse thread.
Fine thread is recommended for hard woods such as Oak and Coarse thread is recommended for soft woods such as Pine.
Available in the following quantities:
1 Lb  (Approximately 200 pieces)
Specifications:
Fastener Type: Pocket Hole Screw
Size Description: #7 1-1/4 in.
Diameter Nominal Size: #7
Length: 1-1/4 in.
Material: Zinc
Finish: Clear
Head Type: Round
Drive Type: Square
Thread Type: Coarse or Fine 
Building a casket?
Want to learn more about building caskets? Have a look at our friendly casket builder's guide, So You Wanna Build a Casket?