---
Casket Hinges, Separable Hinges for Lids
Separable hinges are commonly used on caskets for easy removal of the casket lid during finishing and upholstery after woodworking is completed. At a minimum, use four hinges per casket for a standard half couch (two piece lid) or full couch (one piece lid). Some craftsmen use six hinges for added security and for hardwood caskets. Hinges sold by each and include black #6 by 3/4 inch screws. Hinges sold in bulk (pack of 100) DO NOT include screws. 
Installation Tips for Casket Hinges...
Edge vs. Flat Mount Styles
There are two styles of hinge escutcheon or base:  edge mount style and flat mount style. An edge mount means the hinge escutcheon--the part that attaches to the casket box--is designed to fit over the edge of a standard 3/4-inch thick piece of board wood. If the top edge of your casket box wall is thicker, then you need the flat mount style of hinge.
What's Included
Hinge escutcheon/base (1)
Hinge stud (1)
Order 4-6 Hinges for EACH Casket
Bulk Pack of 100
We offer wholesale pricing on bulk packs of 100 or more that include hinge base and stud. At 4 hinges per casket, this is enough hinges for 25 caskets. Screws not included in bulk packs.
Customer Reviews
02/25/2022
It was easy to make a purchase, hinges arrived on schedule, you guys rock, I also have a funeral home and Julie sold me a customized Rosedale full couch a few months ago, awesome, beautiful casket keep up the great work!!!
Bill R.

United States
06/20/2021
Great experience.
Great and therapeutic experience to build the coffin. Mattress, pillow, hinges, and latch worked perfectly. Thanks!
JBrown

United States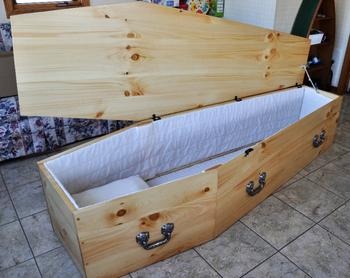 03/18/2021
To Fix or Allow Removal of Lid
Hinges work well to use three for the toe pincher. If the lid fits flush in the back, the hinges open and close properly. Lid is able to be quickly removed without disturbing the hinges.
KATHY S.

United States
02/05/2021
Hinge review
While I like the design of this hinge they do have a problem. The two slotted holes in the female leaf have not been countersunk correctly and will not let the screws fully seat. This results in the screws being proud of the leaf which in turn marks the surface of the lid when closed. It took considerable time to correct this problem
Robin N.

United States
12/20/2020
Hinges
Our volunteer men's group make caskets. we find your separable hinges are very good quality Thank you. Mike
Mike K.

Canada