Customer Reviews
03/18/2021
To Fix or Allow Removal of Lid
Hinges work well to use three for the toe pincher. If the lid fits flush in the back, the hinges open and close properly. Lid is able to be quickly removed without disturbing the hinges.
KATHY S.

United States
02/05/2021
Hinge review
While I like the design of this hinge they do have a problem. The two slotted holes in the female leaf have not been countersunk correctly and will not let the screws fully seat. This results in the screws being proud of the leaf which in turn marks the surface of the lid when closed. It took considerable time to correct this problem
Robin N.

United States
12/20/2020
Hinges
Our volunteer men's group make caskets. we find your separable hinges are very good quality Thank you. Mike
Mike K.

Canada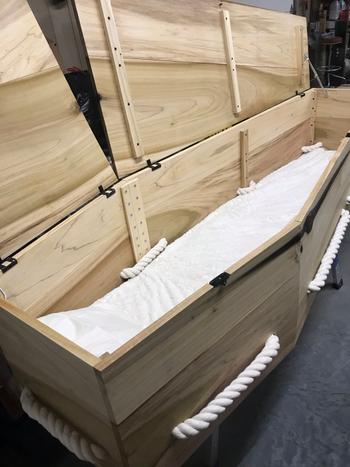 12/11/2020
Separable hinges for casket lids
The hinges work great and are easy to install they also arrived pretty quick
Rickey C.

United States
10/25/2020
Awesome!
These hinges work great!
John D.

United States