Customer Reviews
02/25/2022
It was easy to make a purchase, hinges arrived on schedule, you guys rock, I also have a funeral home and Julie sold me a customized Rosedale full couch a few months ago, awesome, beautiful casket keep up the great work!!!
Bill R.

United States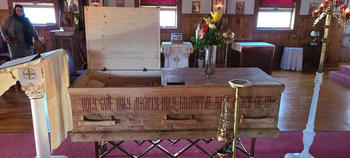 11/05/2023
Hinges for caskets
The first time I have had a request for a split lid casket. The hinges from Casket Builder Supply worked out perfect. The funeral home like them as well.
Sdn D.

United States
10/19/2023
New casket owner
I recently bought a hearse and a full size oak coffin came with it. I was taking the coffin out of the hears and gravity still works and it fell to the ground. The hinges on one side of the lid broke. Went online and found this website and ordered replacement hinges. They arrived quickly and are durable. The separable hinge is much smaller than the one that was on the casket. Not sure if it will work or not.
Chris M.

United States
08/10/2023
Badlands cedar casket
My experience was very good. they're very easy to work with and very quick to send your supplies out.
Mark F.

United States
10/01/2022
Great hinges
Perfect fit with 3/4" side, on a wooden casket. Easy to install & the hinges make it possible to separate the lid from the casket. These are Great for anyone building a casket at home.
John W.

United States