Customer Reviews
12/20/2020
Hinges
Our volunteer men's group make caskets. we find your separable hinges are very good quality Thank you. Mike
Mike K.
Canada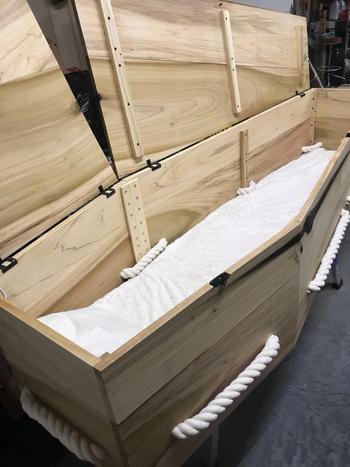 12/11/2020
Separable hinges for casket lids
The hinges work great and are easy to install they also arrived pretty quick
Rickey C.
United States
10/25/2020
Awesome!
These hinges work great!
John D.
United States
10/11/2020
Supplies when I needed them.
I had the unfortunate opportunity to build a casket for a family member. I found what I needed quickly online. I was able to have next day delivery available. Everything arrived the next day in perfect shape. Thank you for being available in times of need. 
Thomas M.
United States
08/02/2020
hinges
I may give a higher rating once I get directions and install them. Why don't directions come with the product?
jim p.
United States
08/05/2020
Casket Builder Supply
Hi Jim, how can we help you? These hinges install just like any other cabinet hinge. The base attaches to the top edge of hour casket sidewall. The stud attaches to the lid. Most casket makers do not mortise in the base, just attach on top. Then, with all bases installed, position you lid(s) so they are properly centered. Then mark the lid at the two edges of the base where the hinge stud will fit in. Then turn over the lids and attach the studs. To attach the lid to the casket, hold lid open about 100 to 105 degrees and the stud will drop into the base. Then pull the lid closed and the stud will not separate from the base.