---
Line the inside walls of your casket with this pre-measured liner set.
This box liner set is pre-measured and ready to install. It has finished edges and is attached to K-cell to add body to the fabric. The cardboard strip helps you achieve a clean, crisp edge to the liner. Installation instructions with photos will walk you through the installation process. This does NOT include a mattress and pillow set which is sold separately.
Helpful items for installation:
An extra set of hands
Heavy duty stapler or upholstery tacks and hammer (Hot glue can be used as a metal free alternative to staples)
Tape measure
Set includes the following:
One casket box liner 
One cardboard strip 
Installation instructions
Specifications:
Casket box liner: 6 yd. X 16.5 in.
Cardboard strip: 6 yd. X 0.5 in.
Material: Assorted
Weight: 2 Lbs.
Installation time: 30-60 Minutes
This casket box liner is available in the following fabrics.  These fabrics match our Casket Mattress and Pillow Sets.
Crepe in Polaris White: Light polyester with a shiny surface
Crepe in Alpine Rosetan
Velveteen in White: Medium weight fabric with a soft pile surface
Natural Cotton: Unbleached cotton muslin with a natural beige color
For the next level up, we offer a Tailored Casket Box Liner Set that includes additional pieces; Mid-Casket Drape, Hinge Cover, Extendover, and top support cover.
Customer Reviews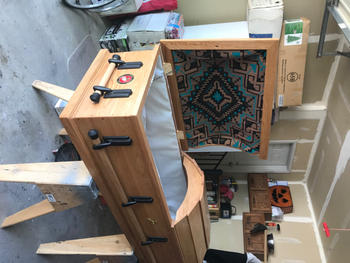 06/07/2020
Excellent Liner
I purchased the crepe casket liner for the casket I made for my Dad. As always the product and customer service is outstanding!!!
Scott W.

United States
07/04/2021
Great Value
If it fits like the hardware and mattress set have it will be perfect.
Kirk C.

United States
01/07/2021
Super service
Material seems of good quality, service is great. I contacted them with a minor glitch-worked out fast and to my satisfaction.
David M.

United States
07/24/2020
Satisfied customer
These products were a great start for the interior project that I was trying to accomplish
Ray S.

United States
08/05/2020
Casket Builder Supply
Thanks, Ray! Send photos when you are done if you are willing to share.
05/28/2020
Tried to (KISS) keep it simple ****** !!!
Our time with you was very informative and helpful. We have almost completed, the box and moving on to finishing. will send photos when all done. Thank you Rodney
Rodney D.

United States