---
Line the inside walls of your casket with this pre-measured liner set.
This box liner set is pre-measured and ready to install. It has finished edges and is attached to K-cell to add body to the fabric. The cardboard strip helps you achieve a clean, crisp edge to the liner. Installation instructions with photos will walk you through the installation process. This does NOT include a mattress and pillow set which is sold separately.
Helpful items for installation:
An extra set of hands
Heavy duty stapler or upholstery tacks and hammer (Hot glue can be used as a metal free alternative to staples)
Tape measure
Set includes the following:
One casket box liner 
One cardboard strip 
Installation instructions
Specifications:
Casket box liner: 6 yd. X 16.5 in.
Cardboard strip: 6 yd. X 0.5 in.
Material: Assorted
Weight: 2 Lbs.
Installation time: 30-60 Minutes
This casket box liner is available in the following fabrics.  These fabrics match our Casket Mattress and Pillow Sets.
Crepe in Polaris White: Light polyester with a shiny surface
Crepe in Alpine Rosetan
Velveteen in White: Medium weight fabric with a soft pile surface
Natural Cotton: Unbleached cotton muslin with a natural beige color
Customer Reviews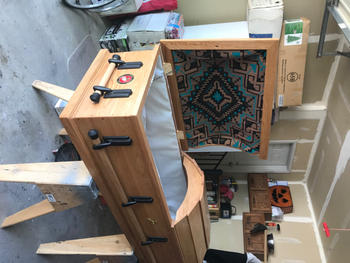 06/07/2020
Excellent Liner
I purchased the crepe casket liner for the casket I made for my Dad. As always the product and customer service is outstanding!!!
Scott W.

United States
01/23/2023
Box liner
Shipping was fast and product was great quality.
05/17/2022
Very satisfied.
nice product and super fast shipping.
Robert C.

United States
04/10/2022
5 stars for Casket Box Liner!
Shipping was so prompt. The package arrived the following day that we ordered. Such a relief during the hectic time of pulling together and unexpected funeral. The directions are clear and the finished result was just as we had hoped. It looked just lovely. Thank you for your 5 star service and product.
Sharon A.

United States
11/19/2021
Casket Box Liner superb!
Everything I have purchased from Casket Builder Supply has been superb in quality and craftsmanship.
Dan R.

United States