---
A perfect casket bedding set option. Complete and ready for installation.
This mattress and bedding set covers the bottom of a casket or can sit atop an adjustable bed. Includes a poly mattress, cover sheet, and pillow. All pieces come ready to install; no cutting, no sewing. Simply drop the mattress in and tuck the cover sheet neatly around the edges. Finally, position the pillow at the head of the casket.

This set does not include a box liner to cover the sides of the casket. Casket box liners are available in matching fabrics. 
Set includes the following:
One poly mattress (replaced with cotton batting mattress for 100% biodegradable set)
One mattress cover sheet 
One pillow 
Written installation instructions
Specifications:
Mattress: 74 in. X 22 in. X 2 in.
Mattress: cover sheet 84 in. X 28 in.
Pillow: 26 in. X 19 in. X 6 in.
Material: Assorted (cotton or polyester)
Weight: 4-6 lbs, depending on fabric choice
Installation time: 10 minutes
Available in the following fabric choices:
Crepe in Polaris White - light polyester with a shiny surface
Velveteen in White - medium weight fabric with a soft pile surface
Crepe in Alpine Rosetan
Natural Cotton - unbleached cotton muslin with a natural beige color
Natural Cotton: 100% Biodegradable - this set comes with a natural cotton mattress
Crepe in Light Pink 
Crepe in Light Blue 
Camouflage 
Customer Reviews
10/23/2022
Great products
Fast shipping, exactly what we needed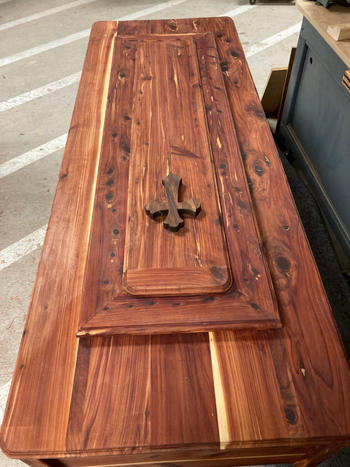 07/31/2022
First time casket
The product worked very well. It was delivered timely. This was my first casket and I wqsn't sure what to expect. very pleased with the result. Thank you. Fred Banes
JAMES B.

United States
07/03/2022
casket mattress and pillow set
AS a pre-need project, My son had bought a kit for your Pinewood box casket and has spent the last 6 months refinishing the wood to a lovely surface. He appreciated the help and hints you gave him as he communicated with you about the project. He lives about 6 hours away from us. Three weeks ago he delivered it to our house. He put it together in our garage (without the glue) to show the finished product. We were happy to see it finished. He then took it apart and stored it under the bed in our guest bedroom. When I saw it completed, I decided to buy your kit for the pillow and mattress. I received it last week and am satisfied that it will be appropriate when time for use arrives. Thanks for serving us.
Janice O.

United States