Customer Reviews
12/13/2019
Consistent Quality!
Here recently, it seems like my shop employees wait until we are almost out or are out of parts inventory before notifying me. However, one quick phone call to Mary @ Casket Builders Supply and the parts are shipped the same day.
Ron L.

United States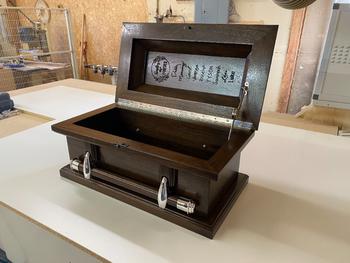 03/01/2022
Great customer service, oversight and products
My daughter died and we built her casket. I looked around all over online and am so glad I found all the products I needed to build a beautiful casket and am grateful for everything you did! Thanks
Bryce J.

United States
11/18/2019
Pleased with Results
We have begun using this style swing arm on all of our caskets after it was recommended by CBS for strength and ease of installation. It is a move we have never regretted.
Ron L.

United States
08/05/2023
Perfect size and color. easy to install
bright r.

United States
03/06/2022
just what I needed
Easy to install, looked great, just what I needed to complete the needed casket.
Steven R.

United States