Customer Reviews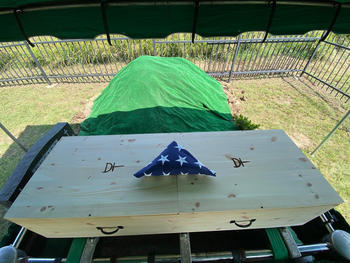 09/16/2020
Thank you
I can't thank you enough for your product and your overnight shipping! My father always said he wanted to be buried in a plain pine box! I started on the project the day he died, but I wasn't able to get a casket in time. I found the pine box kit on your website, called the number, and spoke with someone who was very helpful. With only a few days to spare, she said she could overnight the kit. We received it the next day at 11:30 a.m. My two brothers were tasked with building it. My dad had a great sense of humor, and he would have loved the fact that his sons had to build the box! My brothers branded the top with my great grandfather's branding iron. I can't thank you enough for the product and the overnight shipping. The whole experience gave us some humor and comfort that we honored Dad's wishes!
Pandora D.

United States
12/01/2019
Pine box
Very fast ship. We do green burials so this works perfect !! Sad this is the 4th one we have bought this year :( Good quality for price . The other's come with rope handles , bought rope separate this time & will have to drill the holes for it . Thank you so much for shipping so fast . Thank you
Kelly S.

United States
12/11/2019
Casket Builder Supply
Kelly, thank you for the support & feedback. We are adding the drill bit, and layout instructions for drilling the holes for rope handles to a new "kit bundle" based on your feedback. Your comments matter, thank you for sharing.
12/28/2019
Best Buy
This is the best buy I have found since another manufacturer went out of business, who was selling a similar product for $444 including shipping. All parts present (not always the case!), instructions fairly easy to follow - videos very helpful. Took me about 45 minutes to assemble. Thank you for making affordable caskets!
Robert W.

United States
08/05/2020
Great Casket
I would like to thank you all for everything. Here are pics of our build for my father in law. Building it was a great and perfect way for the family to take part and help with the grieving process. I ordered the plain pine box style and instead of leaving it plain or staining it, i flamed it to make the grain pop out, something i have done on other projects and it really gives it a different look which was great. My father in law had 3 daughters so we saved 3 screws, on for each to screw in. We have gotten nothing but complements and everyone loved it. We even put my sister in law Julia, who is a bigger gal, inside it, picked it up and shook it to test its strength to make sure her dad wont fall out while carrying it. We got some laughs from that. I can send the video of it if you want to see. It took a little bit to figure out from your instructions on how to build but we got it the rope handle gave no instructions on the placement of the holes so we did the best we could. Would love to have a plan to follow on that one as well as the hardware install we totally guessed at all of it. Thanks again. We will definitely be doing this again.
Justin C.

United States
08/19/2020
Casket Builder Supply
Thank you so much for sharing your story and the photos.
02/27/2020
Thank you!
Best price I have found for casket kits since our former supplier went out of business. A great service to those of us who want to keep burial prices as low as possible. Be nice, however, to include at least some rope handles.
Fr. Alban Waggener

United States